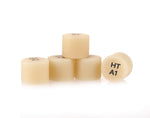 Amber Press
Lithium Disilicate-Based Press Ingots
Amber Press
Amber® Press is the lithium disilicate-based press Ingot 

with high strength and minimal reaction layer for the efficient workability and excellent aesthetics.
The biaxial flexural strength of restorations made of Amber® Pressafter crystallization is 460 MPa. With superior properties, complete your work yielding incomparable results.
Efficiency & Safety
Obtain work efficiency
with safe work procedure
Amber® Press is the suitable press material for the efficiency and safety at the same time. Since only few amount of reaction layer would be on the result, users don`t need to apply the acid liquid, which enable the work procedure to be simple and easy, leading as nonhazardous process.
Available shades & Indication